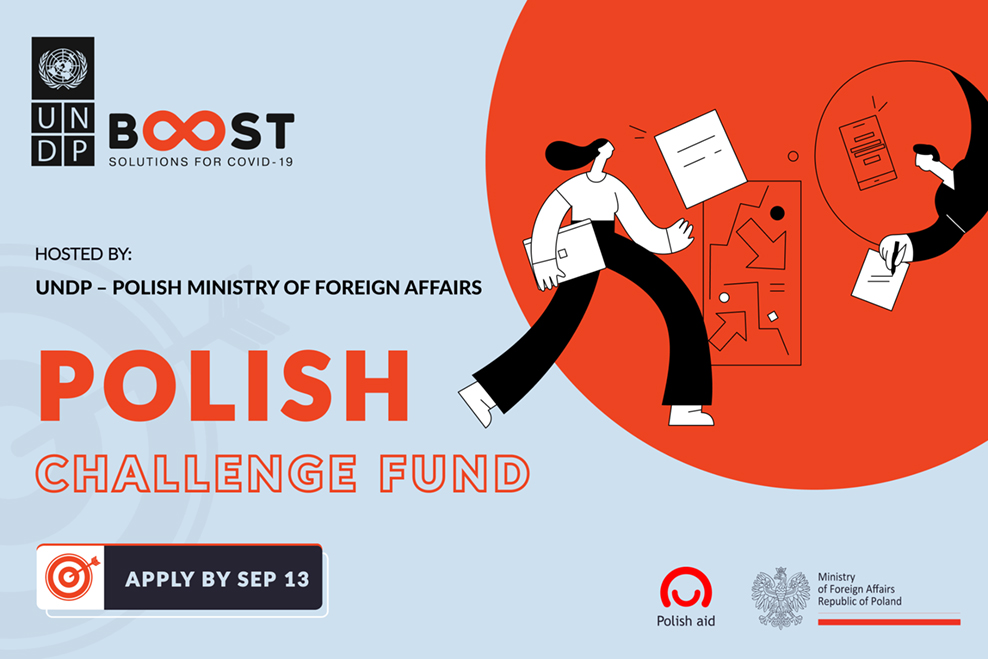 Ministerstwo Spraw Zagranicznych RP i United Nations Development Programme Istanbul Regional Hub zapraszają do udziału w webinarium: Polish Challenge Fund: BOOST Solutions for COVID-19. How to succeed with your application?
Druga, specjalna edycja Polish Challenge Fund w odpowiedzi na pandemię COVID-19 otwarta! Dowiedz się jak poprawnie przygotować aplikację i zgłoś swój projekt do 13 września!
Zapraszamy polskie podmioty – firmy i instytuty naukowo-badawcze do składania ofert w ramach drugiej edycji Polish Challenge Fund (PCF) – wspólnej inicjatywy MSZ RP i UNDP IRH w ramach programu akceleracyjnego dla innowacji UNDP: BOOST Solutions for COVID-19. Założeniem PCF jest transfer polskiego know-how, technologii i innowacyjnych rozwiązań cyfrowych dla wyzwań wynikających z pandemii COVID-19, do krajów partnerskich Polskiej pomocy – Białorusi i Ukrainy.
Podczas webinarium dowiedzą się Państwo:
Jak poprawnie wypełnić formularz aplikacyjny?
Jak przygotować i opisać budżet projektu?
Odpowiemy również na Państwa pytania!
Webinarium w j. angielskim odbędzie się 27 sierpnia br. (czwartek), w godz. 16:00-17:30, poprzez platformę ZOOM.
Zapraszamy do udziału i prosimy o przekazywanie załączonego zaproszenia do Państwa partnerów i kontaktów!
Materiały
Polish Challenge Fund BOOST Solutions for COVID-19-How to succeed with your application – Invitation-27.08.2020
Polish​_Challenge​_Fund​_BOOST​_Solutions​_for​_COVID-19​_Invitation​_27082020.pdf 0.25MB