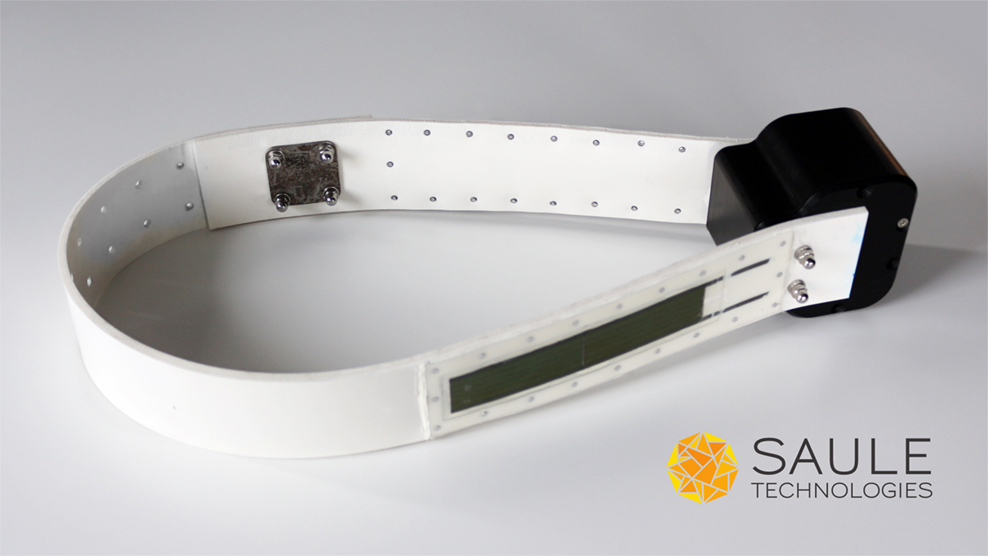 Thanks to technology transfer between various institutions in Poland and Ukraine, Saule Technologies could support European bison preservation.
A prototype of a solar-powered collar was designed to be more optimal for monitoring big wildlife than commercially available asset-tracking devices, so it can provide necessary data to successfully introduce bison to new habitats.
Two bison in Styr Hunting Enterprise, the Lviv region, were captured and collared with telemetry devices powered by perovskite solar cells from Saule Technologies. Perovskites are a group of materials with unique optoelectronic properties, used in next-generation solar cells. The company created a solar-powered collar to resolve the problem of the short lifetime of similar, commercially available devices. The prototypes, ongoing the testing phase, will be further improved to support the bison conservation activities of WWF Ukraine (World Wide Fund for Nature).
In March last year, Saule Technologies received an invitation to participate in the Polish Challenge Fund and started researching project ideas. The team contacted WWF Ukraine that later became their local partner.
European bison is one of the species targeted by WWF to recover its population in Europe, particularly in Ukraine, with a rich conservation program. "Some of the most crucial activities include relocating bison to allow breeding between different herds, strengthening the species by expanding its gene pool," says Bohdan Vykhor, Wildlife Practice Manager w WWF Ukraine and scientific project consultant. "Animal-tracking provides valuable information about the bison's behavior in its natural environment and can be especially helpful while introducing bison into a new habitat." Saule Technologies are introducing a new approach based on the use of new technologies to help monitor and build the data sets necessary for the introductions and enhancements of new habitats.
The average life of batteries in commercially available tracking collars is around three years. Capturing big, long-lived mammals, such as bison, to replace the battery is troublesome and costly. Saule Technologies team created a GPS collar powered with a new generation of solar cells based on perovskites. This approach is more effective because the device can last for the animal's lifetime, as it can get all the necessary power from the sun. The company used its own technology of flexible solar cells, as popular silicon solar cells are brittle and can easily break during many years of use. Saule's perovskite solar cells are also the most versatile solar cells because they are operational in various light conditions.
"Perovskite solar cells exhibit high efficiency in full sunlight, but also in shadowed areas, which makes them perfect for powering IoT (Internet of Things) devices in dynamic conditions," said Vivek Babu, project leader. "Printed on flexible foils and robustly encapsulated, they are resistant to damage from, e.g., harsh environment or the bison's behavior."